About AquaTT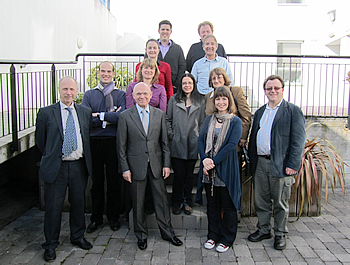 AquaTT was founded in 1992 under the EU COMETT programme as the University Enterprise Training Partnership (UETP) for the European aquaculture industry, arising from a clear need to coordinate the training requirements of the industry through a single body. AquaTT's corporate owners are University College Cork and the National University of Galway, Ireland. Company operations today are led by a senior management team, and supported by an experienced staff of programme managers and project officers.
AquaTT is participating in FP7 contracts valued at more than €38 M, and €5.8 M to Ireland (AquaTT €2.9 M), which is why our management and support staff team has tripled in the last 2 years ensuring capacity to deliver on our commitments. The company is governed by our Board of Directors, with four Irish directors and three European directors. A representative from the Federation of European Aquaculture Producers (FEAP) also has a non-voting position.

AquaTT is a specialist in scientific knowledge transfer and management activities and works together with Europe's best researchers and innovators to tackle the big societal challenges facing Europe at the moment. AquaTT is a successful key player in European research consortia, playing a role in end-user focused activities such as communication, dissemination and effective scientific knowledge identification, collection and transfer, facilitating better market take-up of European research findings.


Strategic Aim

AquaTT is an international foundation which provides project management and training services to support the sustainable development of Europe's aquatic resources.
AquaTT's mission is to bridge the knowledge gap between the dynamic R&D environments and the progressive commercial sector.

AquaTT's vision is to be a leader in the field of knowledge management for sustainable sectors.
Read more about AquaTT's role and success in FP7.